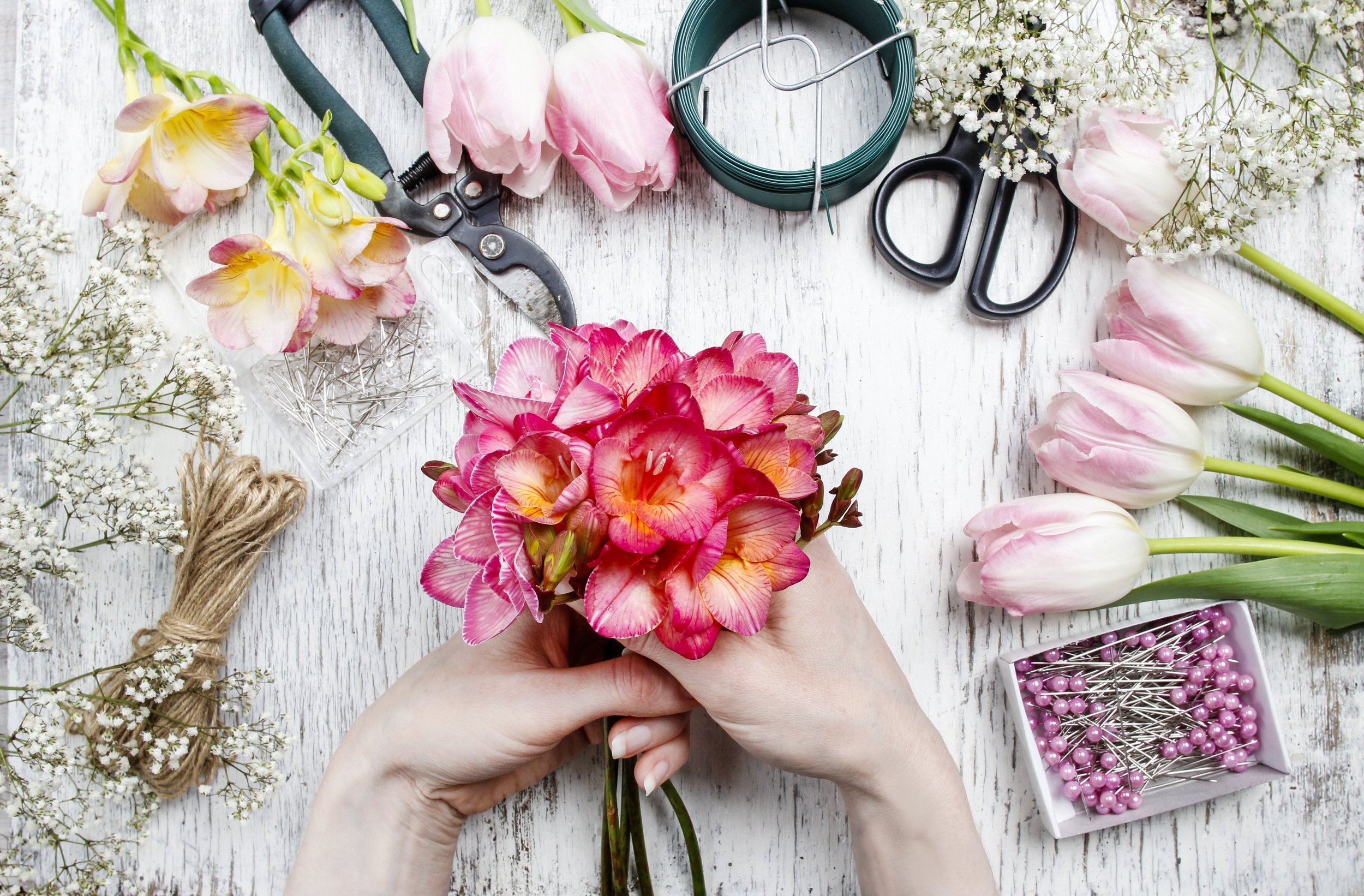 Cvetličarna Ajdovščin offers you a wide selection of daily fresh cut flowers, an assortment of vases or pots, plants and colorful arrangements for all occasions.
Let your events flourish with the help of Cvetličarna Ajdovščina!
At Cvetličarna Ajdovščina, friendly florists are always happy to help you to choose the right flower for the special occasion.
Flowers accompany us at all the turning points of our lives, as they are the easiest way to express our emotions. Wedding arrangements and the bride's bouquet have always been an integral part of the wedding. Order wedding decorations and flowers at Cvetličarna Ajdovščina and may your life together flourish. Beautiful bouquet is a great gift for special celebrations, anniversaries, graduation, and birthday of your loved ones. In difficult times, you will most easily express your condolences through funeral arrangements, mourning wreaths, or ikenabes. One flower says more than a thousand words!
A bouquet of flowers or cut flowers has always been a way of expressing affection for another. The red rose is a symbol of love, and you will express trust and purity with the white rose. At Cvetličarna Ajdovščina, you can choose from a wide offer of fresh flowers every day, as they are delivered twice a week. Trust the florists with what you want to express, and they will help you translate your intention into a beautiful, colorful and blooming bouquet!
For more than 20 years Agrokor d. o. o. has been supplying Slovenia with fresh flowers
Cvetličarna Ajdovščina is a store of Agrokor d. o. o., which has been supplying its customers with fresh flowers for over 20 years. They offer only selected flowers, quality florist services and complete customer care to whoever needs a little bit more green colour in their life.
The company strives to the future with a clear vision, desire for knowledge and sense for global trends in floristics. Thus their business flourishes and grows, as do the flowers and plants they supply to ther customers, boutiques and florists. They will provide you with everything from several pots, delicate flowers and fresh cut flowers, which they supply to their stores twice a week.
In Agrokor's stores you can find glass vases, dried or silk flowers, ceramic pots of various sizes and decorative material for all occasions. Floral decor will lighten up any room. You can find their flourishing collection of services in their online store. Conjure up warmth and homeliness in your home with flowers and decor from Agrokor d. o. o.!